OUR PRIVACY COMMITMENT TO YOU
A-Team Solutions, LLC (ATS) recognizes, respects, and protects the personal and organizational privacy rights of all our clients. We realize that our clients entrust us with proprietary and confidential information and it is our policy to maintain this information in a confidential manner. We are committed to providing the highest level of security and privacy regarding the collection and use of our customers' information, as well as personal information of all individuals who visit our website.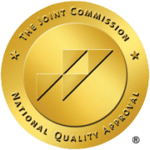 ATS has earned the
Joint Commission's Gold Seal
of Approval
CONFIDENTIALITY AND SECURITY OF NON-PUBLIC PERSONAL INFORMATION
We restrict access to non-public personal information about you to only those employees who need to know that information to provide products or services to you and your organization. We maintain physical, electronic and procedural safeguards to guard your non-public personal information.
NON-PUBLIC PERSONAL INFORMATION WE COLLECT
We collect non-public personal information about you from the following sources:
Information we receive from you on applications or other forms
Information about your transactions with us
Information we receive during performance of services
NON-PUBLIC PERSONAL INFORMATION WE DISCLOSE
We do not disclose any non-public personal information about you, your organization or our former customers to anyone, except as permitted by law. We reserve the right to change this disclosure policy with prior notification to you and the opportunity for you to opt-out of any information sharing we may elect to do in the future.
At A-Team Solutions we value our customer relationships. We want you to understand how we use the information you provide and our commitment to ensuring your privacy.
If you have any questions about how A-Team Solutions protects your confidential information, please contact us at (888) 835-0783.
Legal Notice
ATS Web Site User Agreement
ANY PERSON ACCESSING THE ATS WEB SITE AGREES TO AND IS BOUND BY THE FOLLOWING TERMS AND CONDITIONS:
Copyright: All images, text, programs, and other materials found in the ATS website are protected by the United States copyright laws. Any commercial use of the images, text, programs or other materials found in the ATS website is strictly prohibited, without the express written consent of ATS.
Trademarks: The names, logos, and taglines identifying ATS's products and services are proprietary marks of ATS. All other trademarks and service marks are the property of their respective owners.
Content Submission: Certain areas of the ATS website allow for the exchange of information between you, the USER, and ATS. Any submission by the USER becomes the property of ATS, and the USER implicitly grants ATS the authority and right to use that content in accordance with ATS corporate privacy policies.
User Responsibility: The user assumes all responsibility for use of the ATS website. The user waives all claims against ATS, its officers, directors, employees, suppliers and programmers that may arise from the utilization of the ATS website.
Accuracy of Information: While all reasonable attempts are made to ensure the accuracy of the information, neither ATS, nor its information contributors can be held responsible for the accuracy of the information found in the ATS website. ATS makes no expressed or implied warranty as to the accuracy or merchantability of content or programming.
Disclaimer: This website may contain links or be linked to other web sites not maintained by ATS. ATS makes no representations, express or implied, with respect to the materials and information provided by any third-party web site linked to the ATS website, including any representations as to the accuracy, completeness, reliability or timeliness of any material or information on such third-party linked site. Inclusion of a link in the ATS website to another website does not imply approval, endorsement or recommendation by ATS of the third-party linked site.
Any questions that you have about this agreement can be forwarded to answers@a-teamsolutions.com or: A-Team Solutions, 12507 Marlow Road, Fulton, MD 20759 USA.